THURSDAY, FEBRUARY 7, 2013
7:30 PM
$9
BOX OFFICE CLOSED
SCREENING
UNAVAILABLE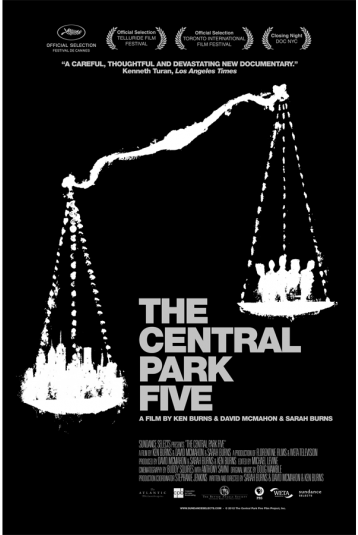 SCREENING UNAVAILABLE
Click here to captain a new screening or use the map below to find existing screenings.
PRESENTED BY
Movie Captain

Gathr-Matt
Since 06/13/2012
ABOUT
In 1989, five black and Latino teenagers from Harlem were arrested and later convicted of brutally beating and raping a white woman in New York City's Central Park. New York Mayor Ed Koch called it the "crime of the century" and it remains to date one of the biggest media stories of our time. The five each spent between six and 13 years in prison before a serial rapist confessed that he alone had committed the crime, resulting in their convictions being overturned.

Set against a backdrop of a decaying city beset by violence and racial tension, THE CENTRAL PARK FIVE tells the story of that horrific crime, the rush to judgment by the police, a media clamoring for sensational stories, an outraged public, and the five lives upended by this miscarriage of justice.
Released: 2012 – Rating: NR – Duration: 119 minutes
TRAILER
COMMENT AND SHARE