CINEPOLIS CINEPOLIS DEERFIELD 8
MONDAY, JANUARY 20, 2014
7:30 PM
$10.50
BOX OFFICE CLOSED
SCREENING
UNAVAILABLE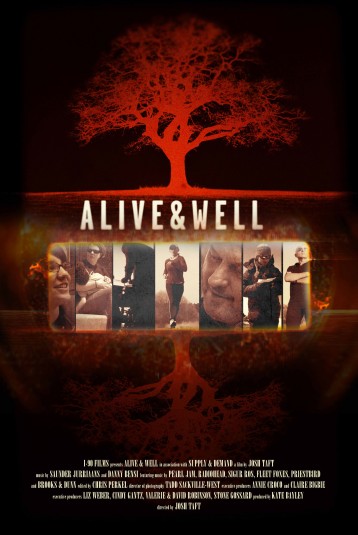 SCREENING UNAVAILABLE
Click here to captain a new screening or use the map below to find existing screenings.
PRESENTED BY
Movie Captain

bgoldring
Since 10/25/2013
ABOUT
ALIVE & WELL is a documentary film about the human condition, which follows seven resilient characters coming to terms with the reality of living with Huntington's Disease (HD); a hereditary illness that is called the most devastating disease known to man.
Far from giving us a hopeless glimpse into life with terminal illness, ALIVE & WELL reminds us of our ability to persevere with strength, despite life's most difficult challenges. 


ALIVE & WELL features original music by composers, Saunder Jurriaans and Danny Bensi of Stenfert Charles. Additional music for the film was provided by Pearl Jam, Radiohead, Sigur Rós, Fleet Foxes and Priestbird.
HUNTINGTON'S DISEASE (HD) is a hereditary, degenerative neurological disorder that has been called the most devastating disease known to man. After adult onset, 15-20 years of slow, painful mental and physical deterioration occur. For children who have the juvenile form of Huntington's, the decline is severely accelerated.

Released: 2013 – Rating: UR – Duration: 75 minutes
TRAILER
COMMENT AND SHARE