THE WHISPERER IN DARKNESS
FRIDAY, OCTOBER 26, 2012
10:00 PM
$10
BOX OFFICE CLOSED
SCREENING
CANCELED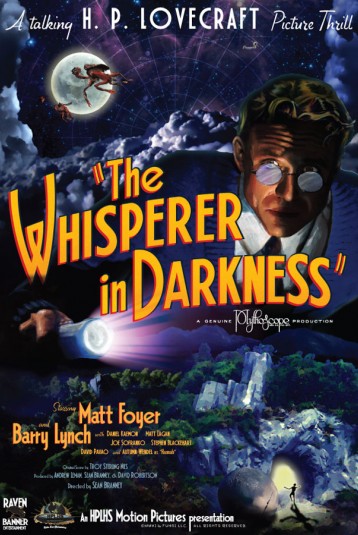 SCREENING CANCELED
Click here to captain a new screening or use the map below to find existing screenings.
PRESENTED BY
Movie Captain

PsychicJoker
Since 07/30/2012
ABOUT
Celebrate author H.P. Lovecraft with a new adaptation of his classic Mythoscope thrill-ride!

Professor Albert Wilmarth investigates legends of strange creatures in the remote hills of Vermont. His inquiry reveals a terrifying glimpse of the truth that lurks behind the legends.

Filmed in the style of the classic 1930s films such as Frankenstein and King Kong, The Whisperer in Darkness is a thrilling adventure of supernatural horror. Start a screening and join the fun!
Released: 2011 – Rating: UR – Duration: 103 minutes
TRAILER
COMMENT AND SHARE