WEDNESDAY, APRIL 10, 2013
7:00 PM
$6
BOX OFFICE CLOSED
SCREENING
UNAVAILABLE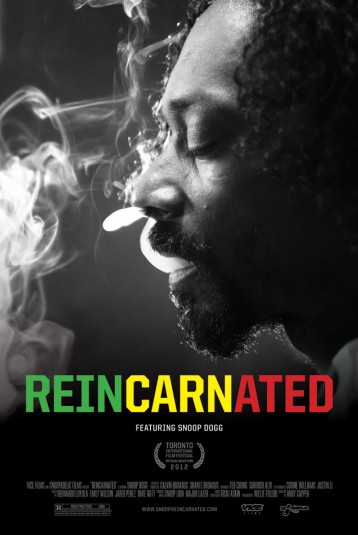 SCREENING UNAVAILABLE
Click here to captain a new screening or use the map below to find existing screenings.
PRESENTED BY
Movie Captain
GATHR PRESENTS
Additional screening at 9PM. http://gathr.us/screening/3275
ABOUT
"They want me to rap, but I don't wanna rap. I've been on the top ever since I've been in. I got rap songs that will never die. What else can I do in the rap world?" Thus Calvin Broadus, Jr., the artist formerly known as Snoop Dog is rechristened Berhane ('The Light') and adopts the majestic new music-world moniker "Snoop Lion." In this close-up documentary by Vice Films global editor and director Andy Copper, we follow Snoop on his month-long pilgrimage to Jamaica as he embarks on "a journey of reincarnation of self" that is equal parts career reinvention and spiritual reawakening.

Intending to leave his rap career behind him, Snoop partners with wunderkind producer Diplo to make a reggae record titled REINCARNATED. As the elders of the Niyabinghi community share with him the importance of peace, oneness with nature and brotherhood, these experiences are manifested in the recording studio. Delving into the legacy of Rastafari music culture, Snoop visits Trench Town, the birthplace of reggae and one-time stomping grounds of luminaries Peter Tosh, Bob Marley and the still-living Bunny Wailer. Reliving his own genesis as a young rapper in Long Beach, California while touring Trench Town's lively streets, Snoop connects to the community in a profound way. And when Snoop meets (and smokes) with Wailer in his home in the hills above Kingston, the living reggae legend dubs him "a lion!"

This is an extraordinary look at a Snoop in transition - trading violence for peace, replacing 'Murder Was The Case' with 'No Guns Allowed' - REINCARNATED shows the Dogg becoming the Lion he feels he was destined to be.
Released: 2013 – Rating: PG-13 – Duration: 90 minutes
COMMENT AND SHARE