THE WHISPERER IN DARKNESS
INDEPENDENT CAPITOL THEATRE ARLINGTON
TUESDAY, JANUARY 15, 2013
8:00 PM
$9
BOX OFFICE CLOSED
This screening has already happened.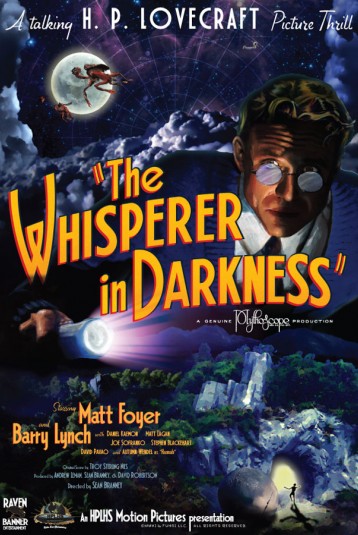 PRESENTED BY
Movie Captain
GATHR PRESENTS
ABOUT
Celebrate author H.P. Lovecraft with a new adaptation of his classic Mythoscope thrill-ride!

Professor Albert Wilmarth investigates legends of strange creatures in the remote hills of Vermont. His inquiry reveals a terrifying glimpse of the truth that lurks behind the legends.

Filmed in the style of the classic 1930s films such as Frankenstein and King Kong, The Whisperer in Darkness is a thrilling adventure of supernatural horror. Start a screening and join the fun!
Released: 2011 – Rating: UR – Duration: 103 minutes
TRAILER
COMMENT AND SHARE