THURSDAY, MAY 19, 2022
8:30 PM
$16
BOX OFFICE CLOSED
This screening has already happened.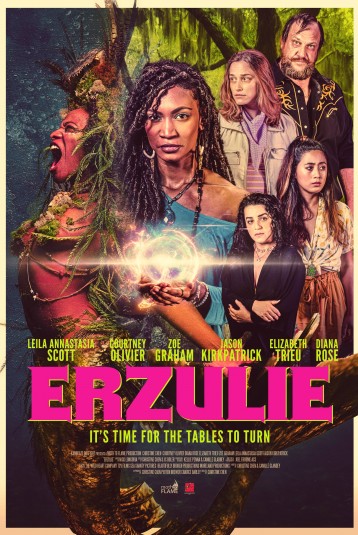 PRESENTED BY
Movie Captain
GATHR PRESENTS
ABOUT
Four besties with hard-knock backstories reconnect at a "Redneck Resort" in south Louisiana for a peaceful weekend on the bayou, but can't shake their troubles: Wendy lost her job, Ari lost her brother, Violet's having nightmares, and Faye's ex is stalking her. These girls need more help than they can find at the bottom of a margarita, and Wendy has a strange plan: summon the legendary goddess Erzulie, who is rumored to rule the local waters and bestow favor on women in need. Unfortunately, the local waters are recently off-limits due to the mysterious death of a Spring Break swimmer, but after a few too many cocktails, the group decides to throw caution to the wind and call Erzulie from the river on their first night. A harrowing accident ensues and forces them to abandon their mystic plans.

Did the magic work? They don't know. What they do know is they aren't safe.
Everyone feels sick after exposure to the river water and Faye's ex is catching up to her with each passing moment, despite her efforts to change jobs and phone numbers. Adding to the tension, on their second day the women discover a badly injured stranger while hiking and bring her to their cabin to recover. They split up to find medical supplies, making them dangerously vulnerable when the inevitable happens and Faye's stalker shows up to confront her.
Where is Erzulie when they need her? Closer than they could imagine.
When the women return to the cabin with supplies, the stranger is gone and foul play is afoot. They track the clues to the resort swimming pool, where they find two things: a dead body and Erzulie herself, in the form of a fearsome swamp mermaid. Terrified by the violence at hand and surely implicated in a murder, the women race to cover their tracks and distance themselves from the creature they once summoned. But they aren't the only ones who have heard the legends, and they aren't the only ones at the camp. The resort's proprietor is hot on their heels, hoping to make the catch of a lifetime by capturing Erzulie himself, and the women are his ticket, or his only obstacle, to owning the world's rarest aquarium. As the girls run for their lives, they uncover the true root of the Spring Break swimmer's death and the source of their river-borne sickness, but will they survive to tell the tale, or be victims of the powers that be?
Ultimately, man's greed and nature's rage go head-to-head in an unearthly showdown where only fools and heroes dare to dive.

Released: 2022 – Rating: NR – Duration: 86 minutes
COMMENT AND SHARE