REGAL GREECE RIDGE STADIUM 12
FRIDAY, MARCH 2, 2018
7:30 PM
$10.05
BOX OFFICE CLOSED
This screening has already happened.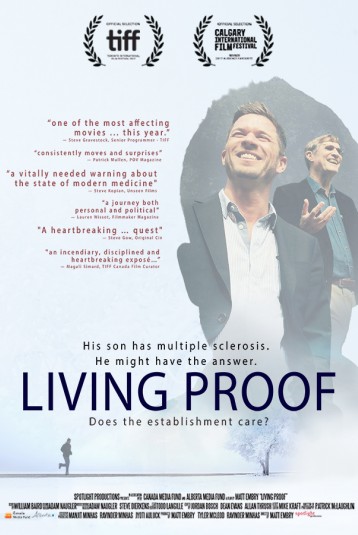 PRESENTED BY
Movie Captain

JenniferSekovski
Since 01/21/2018
ABOUT
When a young man is diagnosed with a debilitating autoimmune disease with no cure, he and his father go on a journey to find answers and hope.

Filmmaker Matt Embry and his family are devastated when he is diagnosed with multiple sclerosis. Having previously directed documentaries on Theo Fleury, Jann Arden, Ian Tyson and WP Kinsella, Embry allows cameras into his own life as he and his father, Dr. Ashton Embry, embark on a quest to find insight into the incurable disease. Instead, they discover controversy, confusion and even allegations of conflicts of interest between Big Pharma and MS charities. ​

​From England to Iowa, Embry encounters other MS-sufferers who share their own information and question if neurologists, Big Pharma, academia, government and multiple sclerosis charities are keeping MS patients from accessing alternative treatments for the sake of profit and greed.

In the vein of Roger and Me and League of Denial, Living Proof stylistically blends first-person investigative filmmaking, hard science and a compelling, heartfelt story of a father and son's fight to discover the truth and save lives.

Released: 2018 – Rating: NR – Duration: 97 minutes
TRAILER
COMMENT AND SHARE