SCOUTS HONOR: INSIDE A MARCHING BROTHERHOOD
INDEPENDENT LAKE 8 MOVIES
TUESDAY, MAY 5, 2015
7:30 PM
$10
BOX OFFICE CLOSED
This screening has already happened.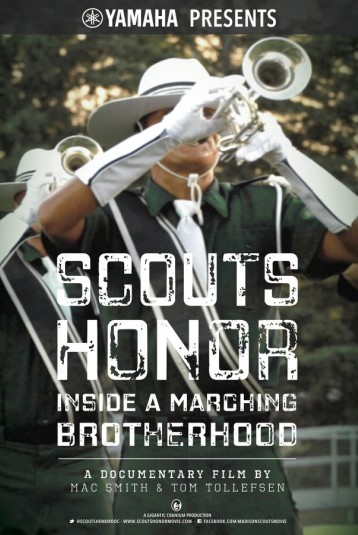 PRESENTED BY
Movie Captain

chuckk
Since 01/22/2015
All remaining tickets will be sold at box office
ABOUT
Synopsis: In one unforgettable summer, three young men commit themselves to one of the most demanding youth activities in the country -- World Class drum and bugle corps: A veteran drumline member steps into a leadership role for the first time; a 15-year-old trumpet player from Texas becomes the youngest member of the entire corps; and a color guard member fights to finish his final season after receiving a life-changing diagnosis. Often referred to as "marching band on steroids," drum and bugle corps pushes young people to extreme levels, both physically and mentally -- all for one 11-minute performance. All three young men march with the Madison Scouts from Madison, Wisconsin. The strong brotherhood of this all-male organization helps them through their struggles and celebrates their triumphs.
Released: 2014 – Rating: NR – Duration: 97 minutes
TRAILER
COMMENT AND SHARE