Silence in the House of God
In San Francisco Embarcadero Center Cinema

Ticketing
Tue, November 20, 2012
AT 07:00 pm
This screening has already happened!
About this screening
MOVIE CAPTAIN:
GATHR PRESENTS
Where: Embarcadero Center Cinema
One Embarcadero Center
San Francisco, CA
Map it
There will be a Q&A with Director Alex Gibney after the screening. All proceeds from the screening will benefit the San Francisco Film Society.
Promote this screening
Use these tools to promote the screening.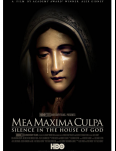 Click here to download
a flyer for this screening.
Pin it up in a local coffeehouse, dorm common area, the bodega or the breakroom at your 9 to 5.
Commentary