In Providence at the 95 Empire Black Box
Ticketing
Sat, November 24, 2012
AT 08:00 pm
This screening has already happened!
About this screening
MOVIE CAPTAIN:
GATHR PRESENTS
Where: 95 Empire Black Box (Main)
95 Empire St
Providence, RI
Map it
RISD students get in free with valid ID!
Promote this screening
Use these tools to promote the screening.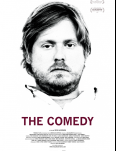 Click here to download
a flyer for this screening.
Pin it up in a local coffeehouse, dorm common area, the bodega or the breakroom at your 9 to 5.
Commentary